Giving Circles
The Clark J. Haines Society and Edward Kuhns & Charles Berry Giving Circles
While Discover Classical receives support from corporations, foundations and government, our most significant source of funding comes from individual donors.  While every listener who contributes financially is considered a member, those who wish to become even more involved in the station are invited to join one of Discover Classical's annual giving circles.  These members share our conviction that Discover Classical must be supported in its goal of sharing this music with everyone- rich and poor, young and old, schooled and skilled. Starting with our Clark J. Haines Society and moving upward, this group of donors understand the value and importance of great classical music, local fine arts information, and play a significant role in the financial stability of the station.
Clark J. Haines Society members contribute $1,000 or more annually
Edward Kuhns Circle members contribute $2,500 or more annually
Charles D. Berry Circle members contribute $5,000 or more annually
These donors represent over 25% of our annual membership assets and give Discover Classical the security to invest in the programming and technology necessary to broadcast the finest music locally and internationally.
Clark J. Haines Society members are recognized with an annual luncheon hosted by Discover Classical.  Members of the Edward Kuhns and Charles D. Berry Circles are included in the luncheon and are also invited to an annual champagne brunch in their honor.  At these events, participants can meet like-minded members and develop lifelong friendships.
We are deeply grateful to members of the Clark J. Haines Society as well as the Edward Kuhns and Charles D. Berry Giving Circles because they provide a strong foundation for Discover Classical.  Thank you. To learn more about membership in our giving circles, please contact Martha Harris at (937) 222-9377 or marthah@dpr.org.
---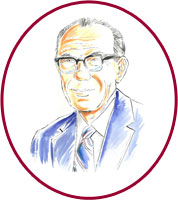 Clark J. Haines
Clark served as the Director of Band, Choir and Orchestra for Kettering City Schools.  He founded and led the NCR Band for 40 years, the Dayton Philharmonic Concert Band, and the Dayton Philharmonic Chorus.  For 42 years, he was the Music Director at Grace United Methodist Church.  Clark was the guiding force behind the creation of Dayton Public Radio.  We are able to enjoy Discover Classical today because of Clark's vision and hard work.
---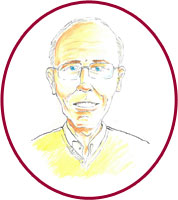 Edward Kuhns
Another of Discover Classical's founding fathers, Ed was a Dayton attorney with a true love for classical music and the arts.  He assumed a lead role in assembling the legal materials needed to get WDPR on the air and continued to work closely with Clark Haines after the station became a reality.  Ed's wife Marge and their daughters remain actively involved with Discover Classical.
---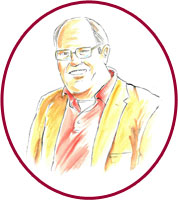 Charles D. Berry
"Chuck" has a heart for the community and for public radio that is demonstrated in all that he does.  His generous philanthropy helps to improve the quality of life in the Dayton region.  Though Chuck is involved with many local organizations, he has a special connection Discover Classical, where he was an on-air host, and an Emeritus member of our Board of Trustees. Chuck has a genuine interest in the history of radio and is also committed to ensuring its future.