In the Area
Arts Activities in our Listening Area
Soprano Maya Vansuch
by Adam Alonzo
December 9, 2019
When Maya Vansuch was a teenage singer from Oakwood, she showed a lot of promise. She was one of Discover Classical's Young Talent Search winners in 2013, she won the Opera Guild of Dayton's High School Vocal Competition, and she received voice scholarships from the Dayton Music Club. In the years since, Maya's promise has come true and she's now beginning her career as a professional vocalist.
Maya recently received her Bachelor's degree in Vocal Performance from Indiana University, where she sang in several productions and developed significantly as a performer. "I learned the technicalities of music, yes -- the theory, the history, the technique -- but I also learned the heart of music," she said.
Maya believes that it's better to express the emotion and artistry of a piece rather than aim to be note-perfect. She said, "Before I perform I always try to let go and give myself to the music, and I'm always happier with the result."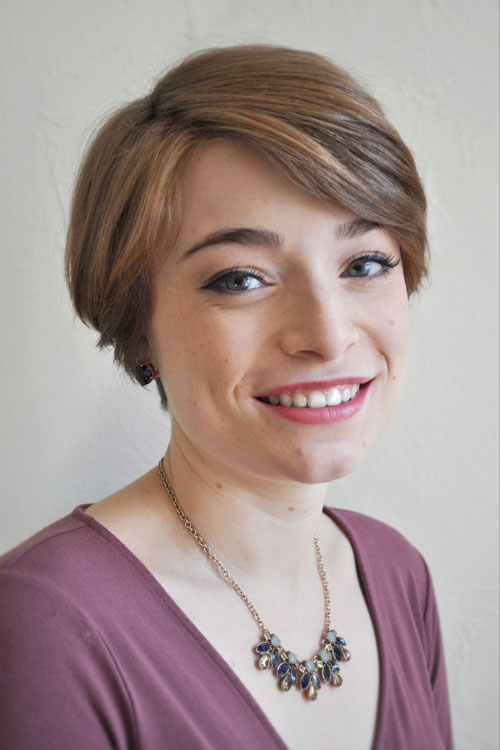 Maya Vansuch is one of Dayton Opera's Artists in Residence
Dayton Opera has selected Maya for this season's Artists in Residence program, which helps to cultivate the next generation of opera singers. The four artists in the program will serve as soloists in the Dayton Philharmonic Orchestra's performance of Handel's Messiah on Wednesday, December 18, at Westminster Presbyterian Church. Maya is excited to take part in the Messiah performance, since she has attended Dayton Philharmonic concerts since childhood. "I am definitely looking forward to performing with them and the fantastic chorus," she said. "Westminster Presbyterian is the perfect venue for the Messiah: heavenly architecture and heavenly music preparing us for Christmas!"
Handel's Messiah is a very familiar work, but every year the DPO's performance is different because of the unique talents of the Artists in Residence. As she sings her soprano solos (which audience members have heard many times before), Maya plans to give careful attention to the text. She said, "I hope to bring a sense of freshness to the bold, joyful message of the lyrics, and through the lyrics, the music as well."
In late February, Maya will make her Dayton Opera debut as Clorinda in La Cenerentola, Rossini's telling of the Cinderella story. Then she and the other Artists in Residence will perform at area schools, helping to introduce young children to opera. Maya took part in a similar outreach program while she was a student in Bloomington. It was a rewarding experience that reminded her of when she discovered classical music as a small child. "It is a fun challenge to engage with an audience that may have little to no interest at the beginning of the performance," she said. "Sometimes there's that one kid who you can visibly watch go from being bored to being intrigued. What a cool moment!"
Music has been an important part of Maya's life from a young age, but she realizes that many school children haven't had the same exposure. She said, "I hope to engage the kids with our performances and inspire them to seek out opera and classical music more, and maybe even try an instrument or singing for themselves!"
Learn more about
Dayton Philharmonic Orchestra's performance of Handel's Messiah
Dayton Opera's Artists in Residence Program
---
Carillon Brass Concert at Levitt Pavilion
by Lina Nahhas
June 5, 2019
If you've listened to a brass Christmas concert in Dayton recently or seen brass players at a school, odds are the performance was by the Carillon Brass. In hundreds of shows every year, the quintet plays music from a variety of styles while maintaining a strong classical basis. Charles Pagnard, who plays first trumpet, said the group performs an eclectic literature "from hardcore classical pieces that might be written by composers such as Bach, to more accessible classical pieces . . . to jazz, popular music, and maybe even a rock and roll tune once in a while."  This large repertoire gives Carillon Brass a wide appeal from school kids to adult audiences.
Carillon Brass is made up of five members of the Dayton Philharmonic Orchestra: first and second trumpets, first trombone, first horn and first tuba. Pagnard said the quintet was created to play educational concerts at schools in the Miami Valley, with the goal of developing a love of classical music in younger listeners. Although the group travels widely to perform, Pagnard said they keep themselves connected with their hometown because they "borrowed the name of a Dayton landmark, Carillon Park."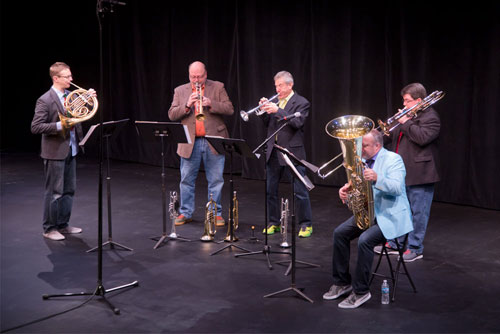 Carillon Brass is made up of members of the Dayton Philharmonic Orchestra.
On Friday June 14, Carillon Brass will perform a free concert at the Levitt Pavilion in downtown Dayton.  Pagnard hinted that the show will open with "something splashy" that has a Spanish flavor.  The concert will also include lighthearted pieces from early jazz, musicals like West Side Story, and perhaps one or two serious classical pieces as well. Pagnard hopes the show will "inspire or at least please a wide variety of people."
Now in its second season of operation, the Levitt Pavilion is an outdoor concert venue on South Main Street in downtown Dayton. Don't worry about finding a place to park:  there are parking garages nearby, and parking meters are free in the evening. Be sure to bring lawn chairs or blankets for seating. Food is allowed, so snacks or a yummy picnic dinner are welcome.  The Levitt will also present other classical events this summer, including a concert by winners of Discover Classical's Young Talent Search on Friday August 9.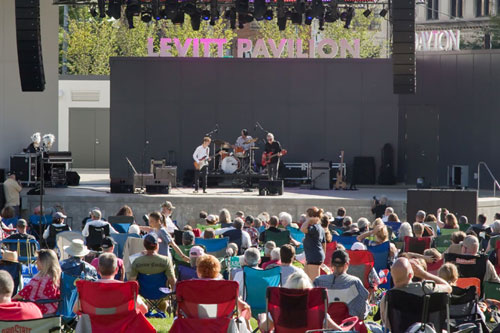 Levitt Pavilion is an outdoor concert venue in downtown Dayton.
The opportunity to see high quality concerts for free is just one part of the vibrant arts culture in Dayton.  Pagnard said Carillon Brass is "very proud to be a part of that [culture] and to be able to be in our downtown area. [It] is important to all of us."  The Carillon Brass concert looks to be another great way for the band to share their enthusiasm for music with their beloved Dayton community.
Learn more about
Carillon Brass at Levitt Pavilion
Discover Classical's Young Talent Search Concert
---
Local Artist Ben Baugham
by Lina Nahhas
May 22, 2019
Ben Baugham's visual art career didn't have a glamorous start. It began spontaneously when he was around six years old. He recounted how he was "kicked out of the house for doing something." Stuck in the backyard, young Baugham used mud to create a three dimensional sculpture of a hand. From there, he began sketching daily, eventually adding ink, paint, and sidewalk chalk to his tool kit.
Sidewalk chalk is Baugham's newest medium and also the one that most perplexes people. Baugham sees this confusion as part of his goal: "People will come up to you and first of all undermine it because it's kids' stuff and that's great because I want people to feel like they could do it." But after watching him work, onlookers begin to realize how difficult the art is, which Baugham said "is the main purpose of my entire career so far." He wants viewers to realize that visual art requires as much hard work and time as musical art. The chalk helps him communicate the connection between visual art and artist because he is present for the entire lifetime of the chalk art:  "Once I finish the piece I disappear, and the art usually disappears right after me." By connecting himself with the art, Baugham believes he adds value to his art -- both the permanent and non-permanent kind.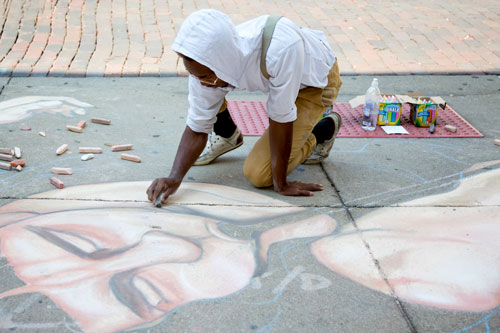 Ben Baugham can often be seen working on the sidewalks of Dayton.
Baugham's talent is not an isolated phenomenon; his other family members shine in their own ways. His sister Anna is a singer/songwriter, his brother Andy writes rap and spoken word, his brother David is a self-taught guitarist, and his mother Pam is a musician with a band. Baugham explained this concentration of artistic skill as the result of the children's desire to give back to their parents. He explained, "All of us are motivated by the idea that my parents deserve to see something really great, and if we have remarkable, or markable, talents at all we really need to work on it so that they can reap the benefits of what they sowed into existence. My mom is probably the reason that everything was created in our family; my dad's probably the reason all of us push it a little bit further than most of the people around us."
But Baugham doesn't want others to think that his family's talents are unattainable. He doesn't even like the use of the word "talent." He said, "There's no natural talent in our family; there's a lot of passion to learn something. And that goes for everybody: there's nobody born with talent.  We're born with desire for something, to do something more than somebody else wants to do it."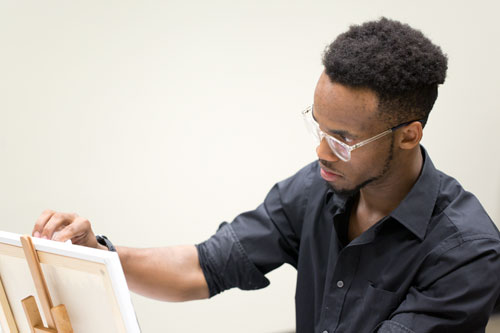 Artist Ben Baugham will create a painting during the Rising Stars Gala on June 1.
Whether it's called talent, skill, or hard work, Baugham will display his artistic process at Discover Classical's Rising Stars Gala on Saturday June 1.  During the VIP reception, he'll create a painting that will be available later during the silent auction. Baugham said that he works best when he goes to an event without a plan: "My best pieces are when I come in and I look around the room and I'm like, 'This might look good.' It's always with something sporadic; it works out much better than my ideas." Attendees can expect a unique painting inspired by themselves: "I really think that people will give me an idea." This next extemporaneous piece should turn out just as amazing as that unplanned mud hand so long ago.
Learn more about
Artist Ben Baugham
Rising Stars Gala
---
Music Enhances Library Literacy Program
by Adam Alonzo
February 5, 2019
"Music helps us connect with ideas," said composer Austin Jaquith.  "Write a good song about something, we'll more likely connect with it, and more likely believe it."  A faculty member at Cedarville University, Jaquith's music was recently heard in Dayton Ballet's production of Dracula:  Bloodlines.  He believes that music can be used to inspire young children to learn.  "It is one thing to tell kids 'this will be good for you,' and it is another thing to tell them subliminally through a song they like," he said.
Jaquith is partnering with the Dayton Metro Library on a literacy program that combines reading with music and performing arts.  "Austin is incredibly talented as a composer and musician with concert and film experience," said Diane Farrell, the library's Director of External Relations and Development.  "Additionally, as a music professor, he is acutely connected to finding ways that music can serve as an engagement and educational tool for youth."
The literacy initiative will utilize Felix and Fiona, a pair of fictional characters used successfully in previous education programs at the library.  A new book about their experiences in third grade is currently being written and illustrated, and the story will then be turned into a musical production.  The show will be performed at area schools and library branches, and also recorded so the book and music can be used perpetually by libraries, teachers and parents.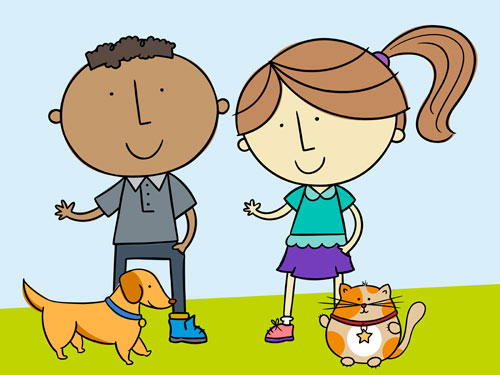 Felix and Fiona are the main characters in a new book and musical production designed to help young children learn to read.
"Kids can read the book, watch a live production, listen to the score, or experience any blend of the three," Farrell said.  "Research demonstrates that books plus an audio component are a great match to encourage and engage kids in reading."
The program targets third graders because that's when reading takes on a new significance for young learners.  "Research shows that children focus on 'learning to read' from birth through the third grade," Farrell explained.  "Then the focus of education changes and the child engages in 'reading to learn' from fourth grade forward."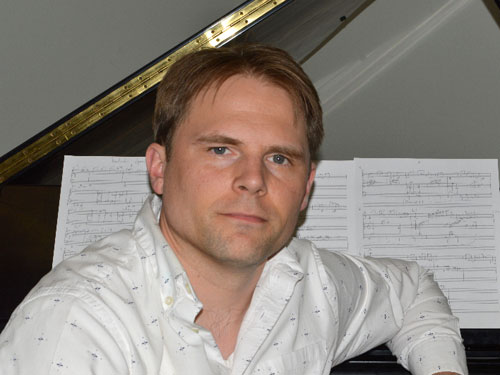 Composer Austin Jaquith will provide music for Dayton Metro Library's literacy program targeting third graders.
Jaquith's role will be to bring Felix and Fiona to life through music.  While he hasn't composed specifically for children before, he always carefully considers the audience that he writes for.  He said, "My approach is going to be direct, light, and somewhat humorous, things that I've noticed my own children respond to."
As the project takes shape in the coming months, families can take part in drama classes and set-building workshops, and then attend free performances of the new show at library branches.  Ultimately, the book and music will be available for download from the library's digital collection.
Learn more about
Felix and Fiona, A Musical Experience for Third Grade Reading
Composer Austin Jaquith
---
Levitt Pavilion Makes a Musical Impact
by Adam Alonzo
August 22, 2018
The biggest news lately in Dayton's music scene is the opening of the Levitt Pavilion, an outdoor stage where four free concerts are presented nearly every week.  It's located downtown at Main and Fifth Streets, near the Dayton Convention Center and Crowne Plaza Hotel.  On Thursday, Friday and Saturday evenings at 7pm and Sunday afternoons at 3pm, music lovers can come together on the grassy lawn to enjoy a show.
"We would like Dayton to consider this their new living room," said Executive Director Lisa Wagner.  "We want this to be a place where friends new and old connect, and everyone has access to high-caliber, diverse programming."
The inaugural Levitt Pavilion concert season continues through early October and includes a wide variety of styles, such as blues, jazz, country, folk and international music.  "We were strategic in programming across seven different genres so that everyone will find something to love," Wagner said.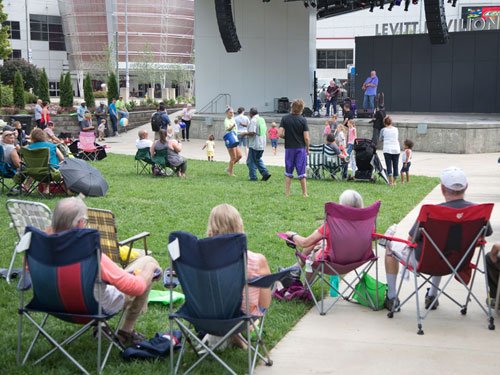 The new Levitt Pavilion presents free concerts in downtown Dayton.
The new stage in Dayton is part of a nationwide network of similar venues supported by the Mortimer and Mimi Levitt Foundation.  "The main mission of all Levitt Pavilions is to build community through music, one free concert at a time," said Wagner.  In addition to presenting shows for the public, Levitt Dayton also facilitates outreach activities in the community.
For example, Kyle Dillingham and his band Horseshoe Road recently visited Daybreak, a youth shelter in Dayton.  "Kyle himself is a classically trained violinist," Wagner said.  "And Peter Markes, guitarist and fellow violinist, was a music educator for 17 years."  They gave a brief performance for Daybreak residents and then led the group in a collaborative activity, helping the young people brainstorm ideas and express them in a new song.  Later that day, the Daybreak residents performed the song on the Levitt stage alongside professional musicians.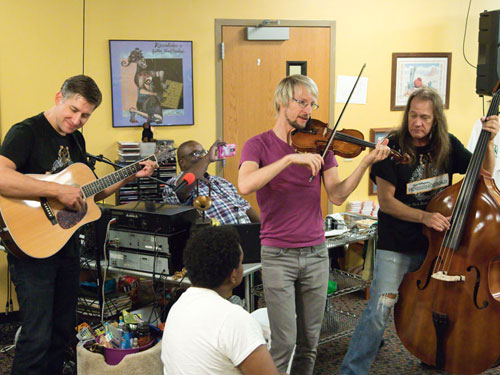 Kyle Dillingham and Horseshoe Road recently led a songwriting activity for residents of the Daybreak youth shelter.
"We do plan to have more outreach opportunities as this season and subsequent seasons progress," Wagner said.  "We have a few things in the works with Dayton Public Schools and Up Dayton to connect our artists to the youth of our community through music education."
The downtown location makes it easy for people to reach the Levitt Pavilion by car, bus or on foot.  Parking is available on the street and in garages nearby, the facility includes a building with restrooms, and there are staff and volunteers on hand to make sure everyone has an enjoyable experience.  "You are welcome to bring your own chairs, blankets, food and beverages so that it is as comfortable as your own back yard," Wagner said.
"Music can be a catalyst for so many things," she added.  "Through music, whether it's a free concert or an educational opportunity, we can realize we are more alike than we are different."
Learn more about
Levitt Pavilion
---
The Guitar Man Goes to School
by Grace James
August 6, 2018
Jim McCutcheon is known affectionately in the Dayton area as "The Guitar Man." He hosts "The Intimate Guitar" every weekend on Discover Classical, and he teaches guitar at his own music studio in Centerville and at universities in the area.  Jim is also a recording artist, and his newest release, The Guitar Man Goes to School, has been 20 years in the making.
The CD is comprised of original songs that were written during Jim's residencies at local schools. During his residencies, Jim collaborates with students to write a song about a scientific or social topic they're studying, from the planets in our solar system to the history of the electric guitar.  Jim makes the song informative and the music catchy and easy to remember.  Students perform the new song during a culminating concert at the end of the residency.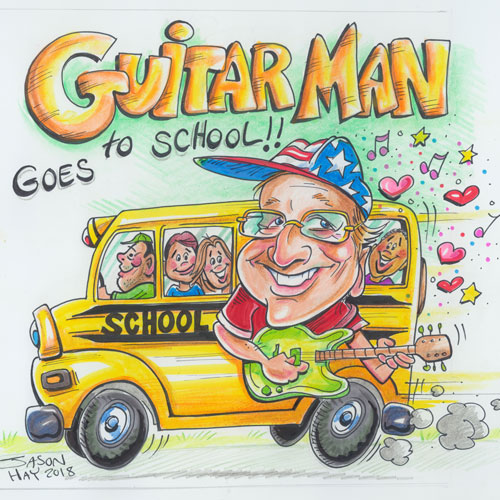 Jim McCutcheon is recording a new album called The Guitar Man Goes to School.
Jim was driven to write educational music when he had children of his own. The Muse Machine in Dayton helped him get involved with many local schools, and offered a training program from the Kennedy Center that helped Jim shape his music residencies.
The album was produced by audio engineer Bill Sellers, who owns Encore Recording Studios in Kettering. Bill has worked on a wide range of projects in the Miami Valley, including ballets and commercials. Bill and Jim work seamlessly together, since they both have a musical and technical background. "We learn something new for each project," Bill said.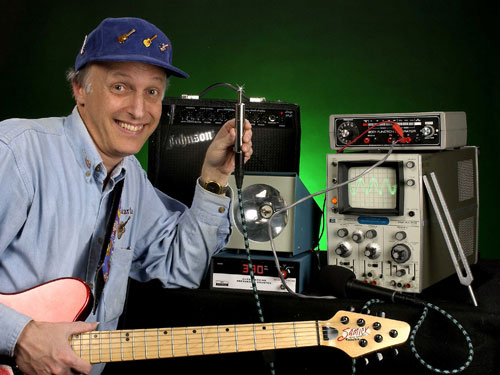 Jim's new CD will help students learn a variety of scientific and social topics.
When creating the album, Jim started by reviewing and choosing some of his favorite songs from residencies over the years. He plays a variety of guitars on the album, including electric, nylon and steel string. Even though Jim and Bill planned the tracks in advance, the recording sessions included a lot of spontaneous changes and improvisation.
Jim's recording project received a grant from the Montgomery County Arts & Cultural District, enabling him to distribute the CD to hundreds of area schools.  "I'm hoping that teachers will be able to use the songs with their kids to drive home certain concepts," Jim said.
When The Guitar Man Goes to School is released, it will be available for purchase on Jim's website and at his store, McCutcheon Music in Centerville.
Learn more about
Guitarist Jim McCutcheon
---
Organ Concerts at Dayton Art Institute
by Grace James
July 19, 2018
The Dayton Art Institute has been a cultural landmark for nearly a century, acting as a home for both art and music. This summer, the Art Institute is holding organ recitals where patrons can listen to beautiful music and learn more about the instrument itself.
These informal concerts are presented in collaboration with the Dayton chapter of the American Guild of Organists. The series features performances from Matt Dierking, a member of the AGO, as well as other local musicians. "We are trying to promote the literature of the pipe organ, and help people appreciate it," Matt said.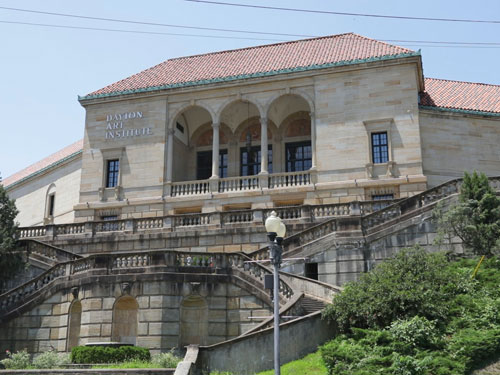 The Dayton Art Institute has presented a series of organ concerts on Thursday afternoons this summer.
The Skinner pipe organ was originally built in 1929, around the same time that the museum itself was constructed. Ernest Skinner was one of the foremost organ builders in the world and was instrumental in advancing the technology of the organ in the 20th century.
"The Dayton Art Institute is a fantastic place to play," Matt Dierking said. "The original Skinner has an amazing sound."  Matt described what made Skinner pipe organs unique. "They are modeled after the French symphonic organ, and they feature solo stops, such as the clarinet and tuba," he remarked.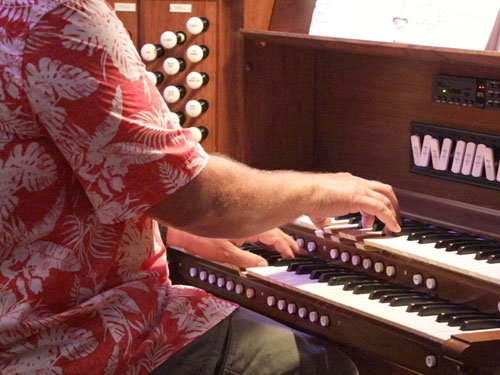 Matt Dierking plays the Art Institute's recently restored Skinner pipe organ.
The Art Institute recently completed a major renovation of its auditorium: every light was replaced, state-of-the-art seats were installed, and the stage was refinished. The organ was thoroughly cleaned and some of its parts were completely updated.
The renovation took about two years and no detail was overlooked. Emily von Stuckrad, stage manager at the DAI, was one of the leaders of the project. "The space needed a lot of love," she said. "We wanted to stay as true to the history of the theater as possible." In addition to musical concerts, the new theater holds dance performances, comedy shows, and talks with artists whose work is featured in the museum.
The theater was renamed the Mimi and Stuart Rose Auditorium, after the philanthropy of its generous donors. Michael Roediger, CEO of the Dayton Art Institute, felt that the partnership was a perfect match. "They are both lovers of the visual and performing arts and the auditorium seemed a natural fit," he said.
The next organ concert is scheduled for Thursday August 23 from 1:00 - 3:00 p.m.  Patrons are free to come and go during the performance, and are encouraged to ask questions about the Skinner pipe organ.
Learn more about
Skinner Pipe Organ Concerts
---
Deeds Carillon Concerts
by Grace James
June 14, 2018
Carillon Park has long been treasured for its beautiful museum and picturesque scenery.  One of its best-known landmarks sits atop a grassy hill overlooking the Great Miami River:  the historic Deeds Carillon. Not only is it a piece of Dayton history, it's also a musical instrument.
The Deeds Carillon was built in 1942 at the request of Edith Walton Deeds, the wife of Col. Edward Deeds, a prominent engineer and inventor in Dayton.  Edith was inspired to have a carillon in Ohio after visiting a famous bell tower in Belgium.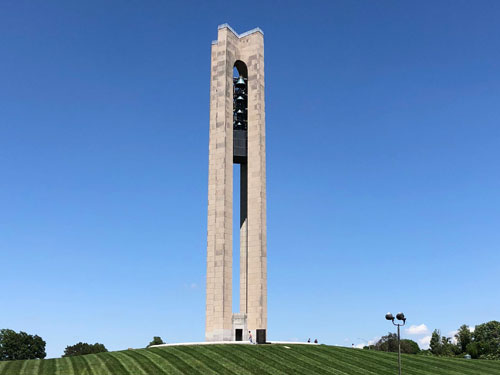 The Deeds Carillon bell tower is 151 feet tall and contains 57 bells.
Deeds Carillon is the largest in Ohio, standing 151 feet tall with 57 bells.  Near the top of the tower is a small playing room with a console made of wooden rods and foot-pedals.  When the carillonneur strikes a rod, a lever is pulled which causes a clapper to strike the corresponding bell.  Playing the carillon is extremely labor-intensive and requires a great deal of strength.
Dr. Larry Weinstein is an award-winning carillonneur who performs Sunday concerts at Deeds Carillon.  He rides a tiny elevator for several minutes to reach the playing room, where he can then climb a ladder and open a hatch to see the bells themselves and a spectacular view of the city.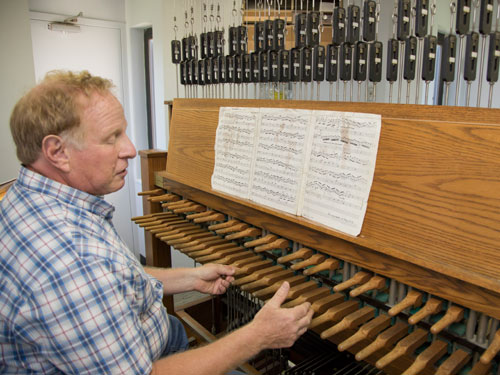 Carillonneur Dr. Larry Weinstein performs Sunday concerts at Deeds Carillon.
Weinstein has been playing the carillon for over 30 years.  He was a voice major at Indiana University, where he met a visiting faculty member from the Netherlands. This encounter inspired him to study in the Netherlands and learn to play the carillon. He enjoyed travelling abroad and even picked up some of the Dutch language.  "It was a matter of curiosity and doing something different," Weinstein said.
Playing the carillon is a rare ability that very few people master.  Most musicians carry their instruments around wherever they go, but Dr. Weinstein has to ride an elevator to access his. "Each carillon is very different," Weinstein said.  For example, some carillons are transposed in different keys, or some are heavier than others.  "It is very important to be able to adapt to other instruments," he said.
At a recent concert, Weinstein played a diverse program that included a Bach Prelude and Fugue and a Joplin rag.  "There is a wide range of pieces to play," he said. "Some are written specifically for the carillon, and others are transposed."
Concerts at Deeds Carillon are an event for the entire family, with many families bringing blankets and sitting on the hill beneath the tower. Concerts are held on Sundays during the summer and fall and are free to the public.
Learn more about
Deeds Carillon Concerts
---
KCC's Lilt of the Irish Concert
by Grace James
May 24, 2018
The Kettering Children's Choir will host their annual spring concert, titled "Lilt of the Irish: Gaelic Sounds," at the Schuster Center on Wednesday, May 30, at 7pm. The singers and staff have been preparing for the concert since January, rehearsing diligently to learn the many new pieces that will be performed.
Appearing on the Schuster Center stage is an exciting experience, especially for the younger children.  "It's fun to watch their reactions once they are in that space because it's so grand," said Mark Jauss, co-artistic director of the KCC.
The Irish theme of the concert is in conjunction with the KCC's upcoming tour of Ireland in June.  On tour, the choir will hold concerts at many different venues around the country and will perform in partnership with local Irish choirs.
The program of the spring concert will include classics such as "Danny Boy," along with music that is unfamiliar to the audience.  "Some will be new to folks and some will be recognized," Jauss said.  "We try to have a balance every time we put a concert together."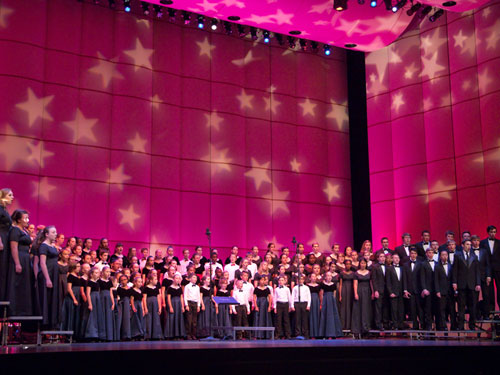 The Kettering Children's Choir will present its spring concert, Lilt of the Irish, on Wednesday, May 30, at the Schuster Center.
The concert will showcase the world premiere of two new works written by Timothy Cooper, the KCC's composer-in-residence.  The first is called "The Lake Isle of Innisfree," which features text from a poem by William Butler Yeats.  Cooper describes the piece as being about "someone who lives in a busy, dirty city, but who longs to live in the country beside a peaceful lake."  The second is "The Twilight Turns," from a section of Chamber Music by James Joyce.  "At its core, I think it's about the first hints of love and attraction between two people," Cooper remarked.
When the audience hears his new music, Cooper said he "hopes everyone finds some beauty or meaning in it, and that they realize that they are the only people in the world to have heard it."
The concert will also feature collaborations with the Celtic Academy of Irish Dance and the instrumental trio Wild Rumpus.  Both groups are based in the Dayton area, and will perform alongside the KCC and individually.
Overall the concert will have a wide variety of vocal and instrumental music, as well as special dance performances.  "There's something for everyone," Jauss said.  "It's a style of music that I think most people can connect to, whether you have Irish roots or not."
Learn more about
Kettering Children's Choir
Composer Timothy Cooper

---
DPYO's 80th Anniversary
by Adam Alonzo
April 23, 2018
The future of classical music seems to grow brighter with every concert by the Dayton Philharmonic Youth Orchestra, an ensemble comprised of some of the region's most talented young musicians. "Classical music is alive and well, and the future is in good hands with our youth orchestra musicians," said Patrick Reynolds, conductor of the DPYO. "I find that working with young musicians gives me a sense of hope."
The DPYO was founded in 1937 by Paul Katz, the original conductor of the Dayton Philharmonic. By presenting Young People's Concerts and establishing a training orchestra, Katz showed his passion for the musical development of Dayton area youth. "Paul Katz put in place a set of values that continues today," Reynolds said. "Bringing musical opportunities to young people, and great music to young audiences, is in our DNA."
Orchestra members this year represent 27 different high schools and many homeschools in nine counties. "The goal of DPYO has always been to encourage, support and strengthen existing school programs," said Ruth Reveal, Director of Education for the Dayton Performing Arts Alliance. Rather than drawing the best talent away from area schools, DPYO members are required to participate in their school bands or orchestras. Reveal said, "We hope that they bring the skills and musicianship they learn in DPYO back to their home orchestras."
The orchestra gives three concerts each year, performing a broad range of challenging works, from Beethoven and Schubert to Bartok and Shostakovich. "I find that our young musicians dive right into difficult repertoire and appreciate the extra challenge," Reynolds said. "I'm absolutely amazed by their talent and abilities."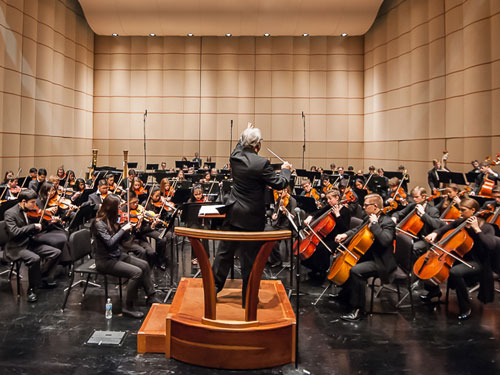 Patrick Reynolds will lead the DPYO in an 80th anniversary celebration concert on Sunday, May 6. (Photo by Bill Box Photography)
Besides learning music and performing in concerts, DPYO members also experience personal growth through their involvement with the orchestra. Reveal was a member of the DPYO during high school. She said, "One of the greatest benefits for me was meeting other young people who were as passionate about music as I was. I made like-minded friends, met students from other schools, and was exposed to a very high quality of music."
Concerts by the DPYO are heard on Discover Classical's Live & Local on Saturdays at 10:00am (the next broadcasts are June 16 and September 15).  Several winners of Discover Classical's Young Talent Search have been DPYO musicians, including violinist Katherine Ballester in 2009.  "DPYO was a fantastic training for my current position," said Ballester, who is now a member of the Dayton Philharmonic.  "We learned essential repertoire, and incredible musicality and expression from Dr. Reynolds."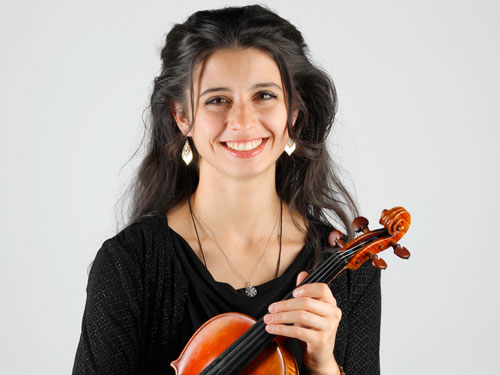 Violinist Katherine Ballester will perform The Lark Ascending with the DPYO during the May 6 concert. (Photo by Andy Snow)
During the DPYO's next concert, Ballester will be the soloist in The Lark Ascending by Ralph Vaughan Williams.  It's a piece she has loved for a long time and is looking forward to performing on stage.  "It is quite a fulfilling, beautiful experience," she said.  "There truly is nothing like playing a solo with an orchestra behind you."
The concert takes place on Sunday, May 6, at 3:00pm at the Schuster Center.  "The Spring Concert in May will be a huge celebration of the DPO's youth orchestra programs," said Ruth Reveal.  The DPYO will be joined by the Dayton Philharmonic Youth Strings and Junior Strings, as well as young musicians from the Q the Music program at Ruskin Elementary.  At the end of the concert, the combined groups will perform The Great Gate of Kiev by Modest Mussorgsky.  Reveal said, "This should be a wonderfully grand way to celebrate all of our youth orchestras and it will be amazing to see around 250 students performing together."
Learn more about
Dayton Philharmonic Youth Orchestra

---
Arts Events at Main Library
by Adam Alonzo
August 28, 2017
There's a new gem in the Gem City now that the rebuilding of the downtown Dayton library has been completed.  The enormous facility offers much more than books, computers and comfortable furniture.  It also includes innovative gathering spaces where people can enjoy a variety of arts experiences.
"We are excited that the new Main Library offers new options for public performances of all types," said Gwen Owen of Dayton Metro Library's External Relations department.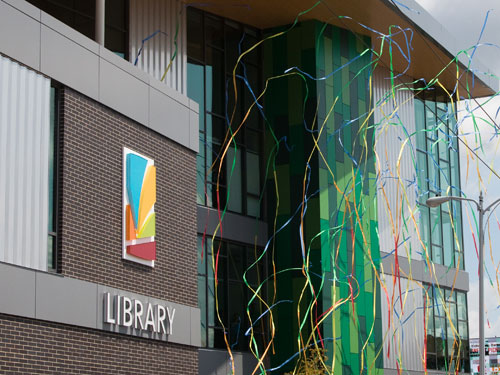 Downtown Dayton's Main Library at 215 East Third Street
In particular, the building has two venues that are versatile enough for music and theatre performances, recitals and readings, and other events.  Gwen said they offer "lots of options, lots of possibilities."
The Eichelberger Forum includes a grand piano, audiovisual system and lighting that make it suitable for concerts and film screenings.  It has a multilevel floor design with flexible seating that can accommodate about 300 people.  The Bassani Theater Off Third is a black box space that can be used for musical recitals and small theatrical performances.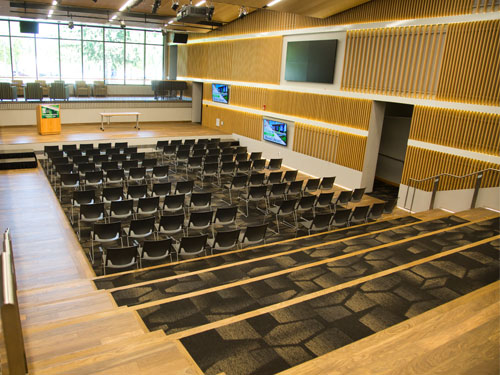 The Eichelberger Forum at the Main Library
A variety of vocalists and instrumentalists will perform on Sunday afternoons in the coming months, beginning with Amanda Roberts playing hammered dulcimer on Sept. 24 at 2:00pm.  Her program will include traditional Irish tunes and more, and she'll be joined by guitarist Mike McDermott.
The Main Library will also host monthly demonstrations of traditional dance styles such as square dancing (Sept. 14), swing dance (Oct. 19) and Irish dancing (Nov. 9).  On Saturday Sept. 30 at 3:00pm, music scholar Aaron Krerowicz will give a multimedia presentation about the Star Wars film scores of John Williams.

All programs are free and take place in various locations within the building.  The Main Library is located at 215 East Third Street in downtown Dayton.
Learn more about
Events at Main Library

---
Bravo Fashion Show
by Adam Alonzo
August 3, 2017
Some of your friends and neighbors might soon be runway models at the annual Bravo Fashion Show presented by the Opera Guild of Dayton.  The event takes place on Friday, September 8, in the Ponitz Center at Sinclair Community College.
Established in the 1960s, the Opera Guild assists Dayton Opera through fundraising, marketing and education.  "Since 2000, the Guild has provided over two million dollars in funds to Dayton Opera," said president Nancy Farkas.  The Guild also gives important in-kind support, like accommodations and transportation for visiting cast members, and refreshments during rehearsals.  The Guild presents several special events each year, such as the Opera Ball, Garden Party, and vocal competitions for high school and college singers.
This year is the 30th anniversary of the Bravo Fashion Show.  "It will showcase fashions from Get Dressed of Oakwood and will feature a delicious luncheon," Nancy said.  The event begins at 9:30 with boutique shopping from a variety of vendors, followed by a social hour at 10:00.  The champagne brunch and fashion show, hosted by Discover Classical's Shaun Yu, starts at 11:30.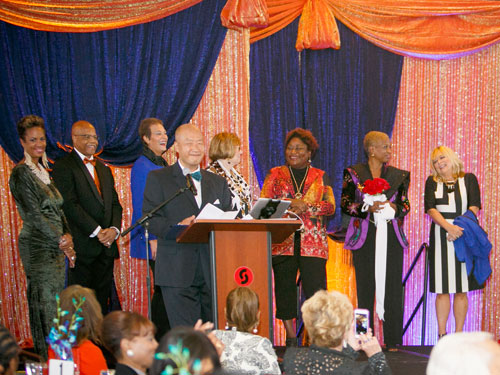 Shaun Yu hosts the Opera Guild of Dayton's Bravo Fashion Show
For the past few years, several Community Models have participated in the fashion show.  Nancy described them as "men and women who have been identified as community role models."  Prior to the event, you can vote for your favorite Community Model on the Opera Guild Web site and the winner will be announced during the show.  Each vote costs $5, and donations from last year's competition totaled more than $12,000.
Learn more about
The Opera Guild of Dayton's Bravo Fashion Show
Vote for Community Models

---
Kettering Children's Choir Spring Concert
by Adam Alonzo
May 31, 2017
The spring concert by the Kettering Children's Choir will be a celebration of the group's 30th anniversary, and also a tribute to its founding director, Dr. Natalie DeHorn.  The concert takes place on Wednesday, June 7, at 7:00pm at the Schuster Center.  The program will include selections from the choir's repertoire over the past three decades, and several KCC alumni will perform.  Also participating will be members of the Dayton Philharmonic Orchestra with conductor Neal Gittleman.  A highlight of the concert will be a performance of Antonio Vivaldi's "Gloria."
Dr. DeHorn established the KCC in 1986 so a choir of well-trained young singers would be available when needed for performances by groups like the Philharmonic, Dayton Opera and Bach Society.  The organization has grown over the years and is now comprised of several choirs, and its members are from communities all over the region, not just Kettering.  In addition to learning about music, KCC singers achieve personal discipline, build strong friendships and have the opportunity to travel abroad.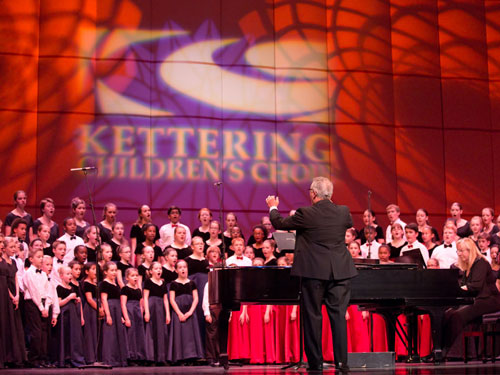 Kettering Children's Choir
This is Dr. DeHorn's final year as artistic director, and leadership of the KCC will pass to Mark and Jennifer Jauss (although Dr. DeHorn will continue to lead a choir of home-school singers).  Mark Jauss sees a promising future ahead for the KCC, thanks to the strong foundation established by Dr. DeHorn.  "We're thankful for this foundation, and will look forward to building upon it," he said.  "There is an incredible amount of potential for growth and for us to extend our reach within the community and beyond."
For example, the KCC will host its first children's choir festival during the month of August at Wright State University.  Mark said, "Our goal with this festival is to provide an educational and rewarding choral experience for our own singers, as well as students from schools throughout the Miami Valley."
Learn more about
Kettering Children's Choir Spring Concert

---
Dayton Opera Artists-in-Residence
by Adam Alonzo
May 9, 2017
During the past several months, four talented singers have appeared in performances throughout the area, including Handel's Messiah with the Dayton Philharmonic Orchestra, A Taste of the Arts at Centerville High School, and a Philharmonic chamber concert at the Dayton Art Institute.  The vocalists are participants in Dayton Opera's artist-in-residence program, now in its 30th year of helping young singers gain professional experience.  All four have roles in Bizet's Carmen, which will be staged at the Schuster Center on May 19 and 21.  Soprano Chelsea Friedlander portrays Frasquita, mezzo-soprano Elizabeth Frey is Mercedes, tenor Brian Skoog is Remendado, and bass-baritone Vincent Grana is Zuniga.
Chelsea Friedlander also played the role of Blonde in Dayton Opera's recent production of Mozart's The Abduction from the Seraglio, displaying both her exceptional vocal talent and her sense of humor.  "Stepping out on the Schuster stage and making my debut was a moment I won't forget," she said.  "I hope this isn't the last time I sing either of these fabulous roles."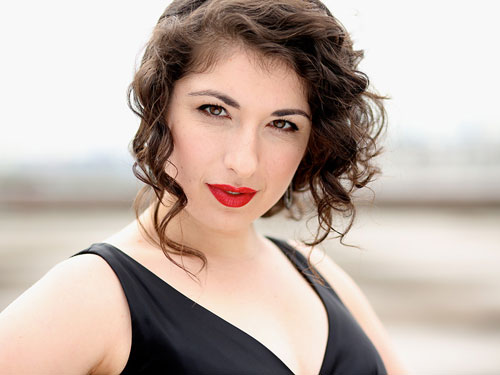 Chelsea Friedlander
Chelsea is a native of New Jersey but is quite familiar with Ohio: she received a degree from the Cleveland Institute of Music and has performed with The Ohio Light Opera Company in Wooster.  While living in Dayton for the past few months, Chelsea has been impressed by the city's love for the arts.  "It is so thrilling to be in a city that houses such a beautiful performing arts center as the Schuster," she said.  While not on stage herself, she has enjoyed watching other types of performances, such as Dayton Ballet, Dare 2 Defy and The Human Race.
Besides their public appearances, the four artists-in-residence have been busy singing at schools throughout the area, presenting musical programs that entertain and educate students at the same time.  "If you reach just one child in the audience, I think that's a success," Chelsea said.  "Even if the children we sing for don't become professional musicians, just exposing them to opera is a great thing."
Learn more about
Dayton Opera's production of Carmen
Soprano Chelsea Friedlander

---
Chamber Music Yellow Springs Annual Competition
by Adam Alonzo
April 11, 2017
Every spring, a musical matchup between two classical ensembles takes place in the annual competition presented by Chamber Music Yellow Springs.  This year's event will be held on Sunday, April 23, at 7:30pm at First Presbyterian Church, 314 Xenia Avenue.  Both groups will perform during the concert and afterward judges will announce which one receives the $4000 first prize and the $3000 second prize.
"Previous winners have gone on to have really remarkable success," said Charles Taylor, president of the CMYS board of trustees.  Three recent winners were semi-finalists for the 2016 M-Prize, a chamber music competition at the University of Michigan.  The $100,000 grand prize was awarded to the Calidore String Quartet, winners of the CMYS competition in 2013.
The ensembles participating in next weekend's competition were selected by a panel of music professionals from the area.  "We end up getting the most advanced graduate students from the best programs in the country," Taylor said.  "Word is out, and people know winning our competition earns a lot of respect."
The CMYS competition focuses on emerging chamber ensembles, and the average age of the group's members must be 30 or under.  This year's event features a piano trio and string quartet that were both established in 2015.  The members of Trio St. Bernard came together at the Taos School of Music in New Mexico.  They will perform works for piano trio by Beethoven, Schubert, Shostakovich and others, as well as their own arrangement of a song by Brahms.  The Vera Quartet formed at the Jacobs School of Music at Indiana University, and they will play quartets by Bartok and Beethoven.  Unlike many competitions, CMYS finalists are allowed to choose the music that they play.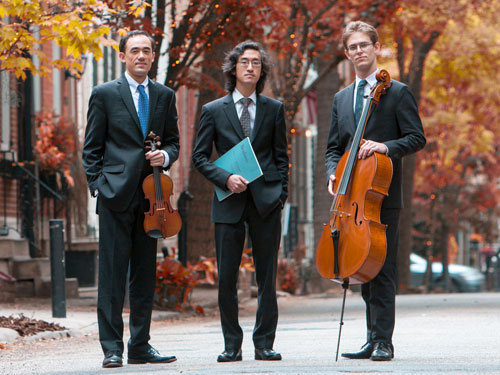 Trio St. Bernard
Vera Quartet
While musical technique is an important consideration for the judges, talent alone isn't enough to win the CMYS competition.  "We judge them not simply on who can play the best Beethoven string quartet," said Taylor.  "We look at their program selection, stage presence and connection with audience.  There's a lot more to it than just playing music."
Find out more about the Chamber Music Yellow Springs Annual Competition
http://www.cmys.org/annual-competition/

---
Q the Music
by Adam Alonzo
March 14, 2017

Last summer, Discover Classical asked listeners to donate musical instruments for use by young music students in the Dayton area.  The response was overwhelming and, with the help of Grismer Tire & Auto Service Centers, we collected well over 150 instruments of all types.  Many of them are now in the hands of string players in Q the Music, an after-school orchestra program at Ruskin Elementary School.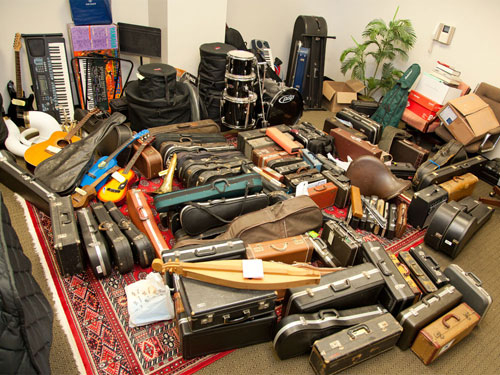 Discover Classical listeners donated an enormous number of instruments.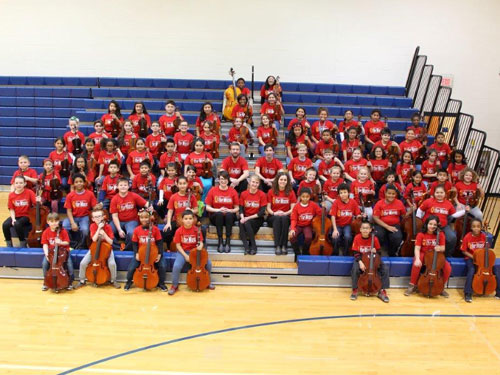 Many of those instruments are now being used by Q the Music students.
"Many of the instruments the students are using are from the instrument drive," said Gloria Pugh, education director for the Dayton Performing Arts Alliance and program director of Q the Music.  Any student at Ruskin is welcome to participate at no cost and they will be provided with an instrument to play.
More than just a musical training program, Q the Music also supports the academic and personal development of students through tutoring, field trips and social engagement.  In the process of learning to play an instrument, a young person's life could be changed for the better.  "Our overall goal is to impact the lives of children who live in challenging circumstances through the avenue of music," said Gloria.
Students in the program learn to read music and play a string instrument, and they become familiar with major classical composers like Beethoven, Mozart and Tchaikovsky.  But participants also gain non-musical skills such as teamwork and perseverance, according to Leslie Dragan, viola teacher and program coordinator.
"Q the Music students work together throughout each day," she said.  "They can see and hear how, when everyone is putting forth effort in learning the music, that our team sounds much better."
Learning to play a musical instrument is challenging, and requires a good deal of dedication to get results.  "By working hard each day, learning from their mistakes and successes, our Q the Music students learn how to keep trying and working until they succeed," Leslie said.  "This builds discipline that they can carry with them throughout their lives."
Ruskin students who joined Q the Music years ago are now preparing to move on to their next level of education.  "So far, all of our students have auditioned for and been accepted to Stivers School for the Arts," Gloria said.  "This opportunity has changed the trajectory of many of these student's lives."
Some of the students are also members of the Dayton Philharmonic Junior Strings Orchestra, which requires another day of rehearsal in addition to the weekday evenings they commit to Q the Music.  "The fact that some of our kids are playing in groups six days a week shows a great enthusiasm for playing music," said Leslie.  "It is evident that they feel that playing music is fun and satisfying."
Learn More About:
Q the Music
What do you think about Q the Music? Talk about it on our Facebook page.

---
Ausra Paints the Dayton Philharmonic Orchestra
by Adam Alonzo
February 8, 2017
Musical and visual creativity came together at the Schuster Center during last weekend's Dayton Philharmonic Orchestra concerts.  As Neal Gittleman and the orchestra performed Bach and Mahler, an artist named Ausra worked at a large easel on the edge of the stage.  At the beginning of the concert her canvas was blank, but by the end she had completed a large painting that revealed her impressions of the performance.
Ausra lives in Beavercreek, although she's a native of Lithuania and her experience is international.  She has made similar paintings of the National Orchestra of Lille, France, as well as jazz musicians in Singapore and Bangkok.  The idea of musical pictures came to her several years ago while attending an opera in France.  "I was surprised by the wild expression of the singer," Ausra said.  "I thought maybe I could try to draw the emotions that I have while listening to the music."
For Ausra, her inner feelings are vital to the artistic process.  "Without emotions, I can only do a drawing of musicians and instruments," she said.  "But that's not really creation."  While she works, Ausra relies not only on what she sees and hears, but also what she feels.  "I can mix reality with imagination," she said.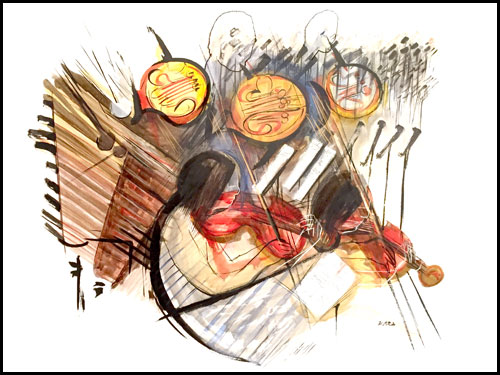 Ausra's painting from Friday night's concert.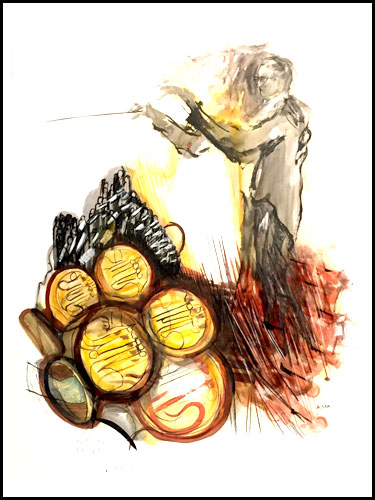 Ausra's painting from Saturday night's concert.
The paintings she completed during the Dayton Philharmonic concerts are colorful composites of horns, violins and other instruments.  Also visible are music stands, ranks of musicians and a conductor with a baton.  Ausra uses a combination of media, such as watercolors, ink, pastel, charcoal and acrylic.  After long study and experience, she's familiar with many artistic styles but doesn't identify with one in particular.  "I've had the chance to know different techniques after twenty years of research," she said.  "I mix them together."
Learn More About:
Ausra
Dayton Philharmonic Orchestra

Were you at the concert? What do you think about Ausra's paintings? Talk about it on our Facebook page.

---
Ashley Bathgate's Bach Unwound at UD ArtsLIVE
by Adam Alonzo
January 26, 2017

Cellist Ashley Bathgate presented a Bach recital for the twenty-first century last night as part of the University of Dayton's ArtsLIVE series.  The young New Yorker played excerpts from the venerated Bach cello suites, interspersed with pieces recently written for her by members of a composers' collective known as Sleeping Giant.  Bathgate collaborated with the six composers to create new works that draw inspiration from the Bach suites.

In addition to her cello, Bathgate utilized an iPad, laptop computer, foot pedals, amplification and audio clips sampled from YouTube.  These tools enabled her to electronically manipulate the modern music, creating echo effects and even playing duets with herself (though she performed the Bach pieces traditionally).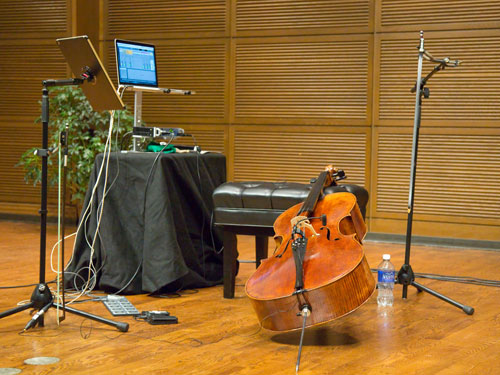 Ashley Bathgate used her cello, two bows, an iPad (instead of sheet music), a microphone for amplification, along with foot pedals and a laptop computer for electronic manipulation.
On both the old and new works, Bathgate played with skill and certainty.  The modern pieces demanded groundbreaking technique, such as the use of two bows (one in each hand).  She had the delicacy to coax whispered harmonics from the strings, and the ferocity to produce thundering tones, all the while tapping foot pedals with her stylish maroon stilettos.

Bathgate said that during her musical training and early career, she felt restrained by the repertoire and rigorous performance techniques of the classical tradition.  After meeting other musicians who used electronics, she decided "to expand my instrument's sound world," resulting in her commission for Sleeping Giant.  Bathgate said, "Bach was an open-minded individual, so I think he would embrace the interpretation."

Although she has encountered some resistance from audiences and colleagues, Bathgate enjoys interacting with living composers to create new music for the cello, and the experience has rejuvenated her perspective on classical repertoire.  "There's this idea that Bach is the holy grail and has to be played in a certain way," she said.  "I don't believe that, and I don't think Bach did either."
Learn More About:
Ashley Bathgate's Bach Unwound Project
University of Dayton's ArtsLIVE Series

Were you at the concert?  What do you think about the use of electronics in classical music? Talk about it on our Facebook page.